If you have a question or a comment about this photograph you may write to me at: tas4@schweich.com I sometimes post interesting questions in my FAQ, but I never disclose your full name or address.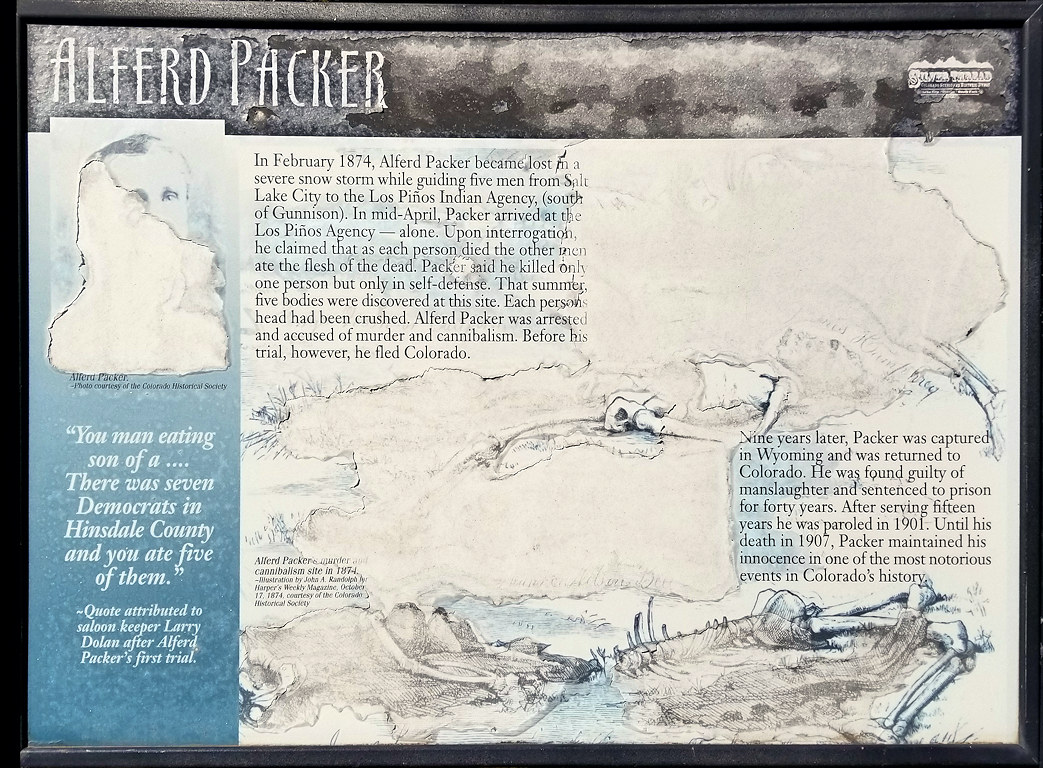 Photographed 18 September 2017.
Alferd Packer

"You man eating son of a ... There was seven Democrats in Hinsdale County and you ate five of them." -- Quote attributed to saloon keeper Larry Dolan after Alferd Packer's first trial.

In February 1874, Alferd Packer became lost in a severe snow storm while guiding five men from Salt Lake City to the Los Piņos Agency , (south of Gunnison). In mid-April, Packer arrived at the Los Piņos Agency -- alone. Upon interrogation, he claimed that as each person died the other men ate the flesh of the dead. Packer said he killed only one person, but only in self-defense. That summer, five bodies were discovered at this site. Each person's head had been crushed. Alferd Packer was arrested and accused of murder and cannabalism. Before his trial, however, he fled Colorado.

Nine years later, Packer was captured in Wyoming and was returned to Colorado. He was found guilty of manslaughter and sentenced to prison for forty years. After serving fifteen years he was paroled in 1901. Until his death in 1907, Packer maintained his innocence in one of the most notorious events in Colorado's history.
Location records that use this photograph:
Article records that use this photograph:
Other photos about Geography - Hinsdale County, CO or Lake City.
---
Date and time this page was prepared: 12/8/2023 3:45:51 PM