If you have a question or a comment about this photograph you may write to me at: tas4@schweich.com I sometimes post interesting questions in my FAQ, but I never disclose your full name or address.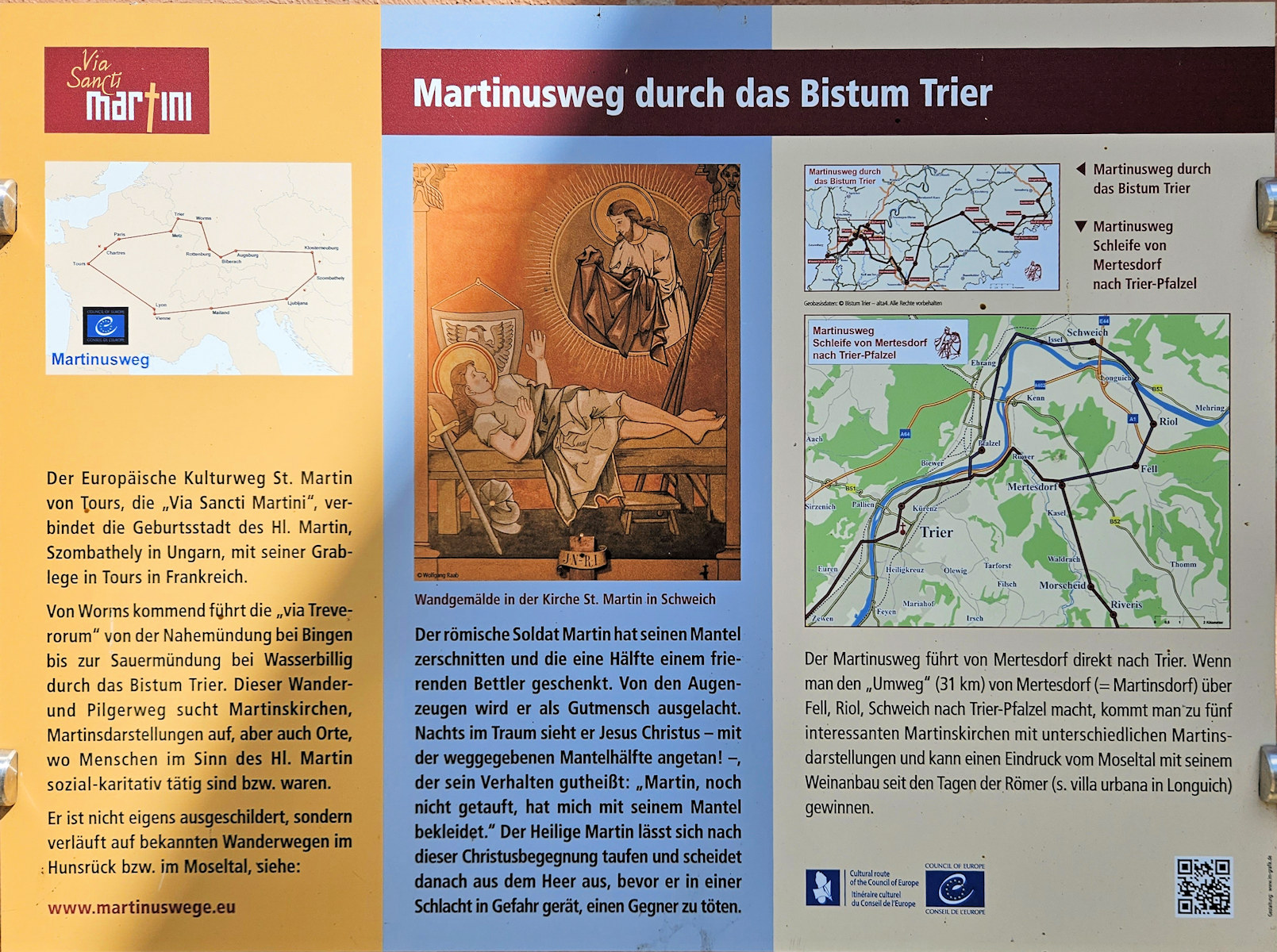 Photographed 14 August 2023.
The Holy Way of St. Martin through the diocese of Trier
The European Cultural Trail of St. Martin of Tours, the "Via Sancti Martini", connects the birthplace of St. Martin, Szombathely in Hungary, with his burial place in Tours in France.
Coming from Worms, the "via Treverorum" leads from the mouth of the Nahe near Bingen to the mouth of the Sauer near Wasserbillig through the diocese of Trier. This hiking and pilgrimage route visits St. Martin's churches, depictions of St. Martin, but also places where people live socially in the spirit of St. Martin -are or were charitable.
It is not specifically signposted, but runs along well-known hiking trails in the Hunsrück and Moselle valleys, see: www.martinuswege.eu
Mural in the Church of St. Martin in Schweich
The Roman soldier Martin cut up his coat and gave half to a cold beggar. He is laughed at as a do-gooder by eyewitnesses. At night in a dream he sees Jesus Christ – wearing the half of his coat he had given away! – who approves of his behavior: "Martin, not yet baptized, has clothed me with his cloak." Saint Martin is baptized after this encounter with Christ and then leaves the army before he is in danger of killing an opponent in a battle.
The Martinusweg leads from Mertesdorf directly to Trier. If you take the "detour" (31 km) from Mertesdorf (= Martinsdorf) via Fell, Riol, Schweich to Trier-Pfalzel, you come to five interesting St. Martin's churches with different representations of St. Martin's and can get an impression of the Moselle valley with its wine growing since the days the Romans (see villa urbana in Longuich).
Location records that use this photograph:
Schweich, Trier-Saarburg County, Rhineland-Palatinate
Article records that use this photograph:
Other photos about Geography - Germany or Schweich.
---
Date and time this page was prepared: 11/20/2023 9:50:04 AM