If you have a question or a comment about this photograph you may write to me at: tas4@schweich.com I sometimes post interesting questions in my FAQ, but I never disclose your full name or address.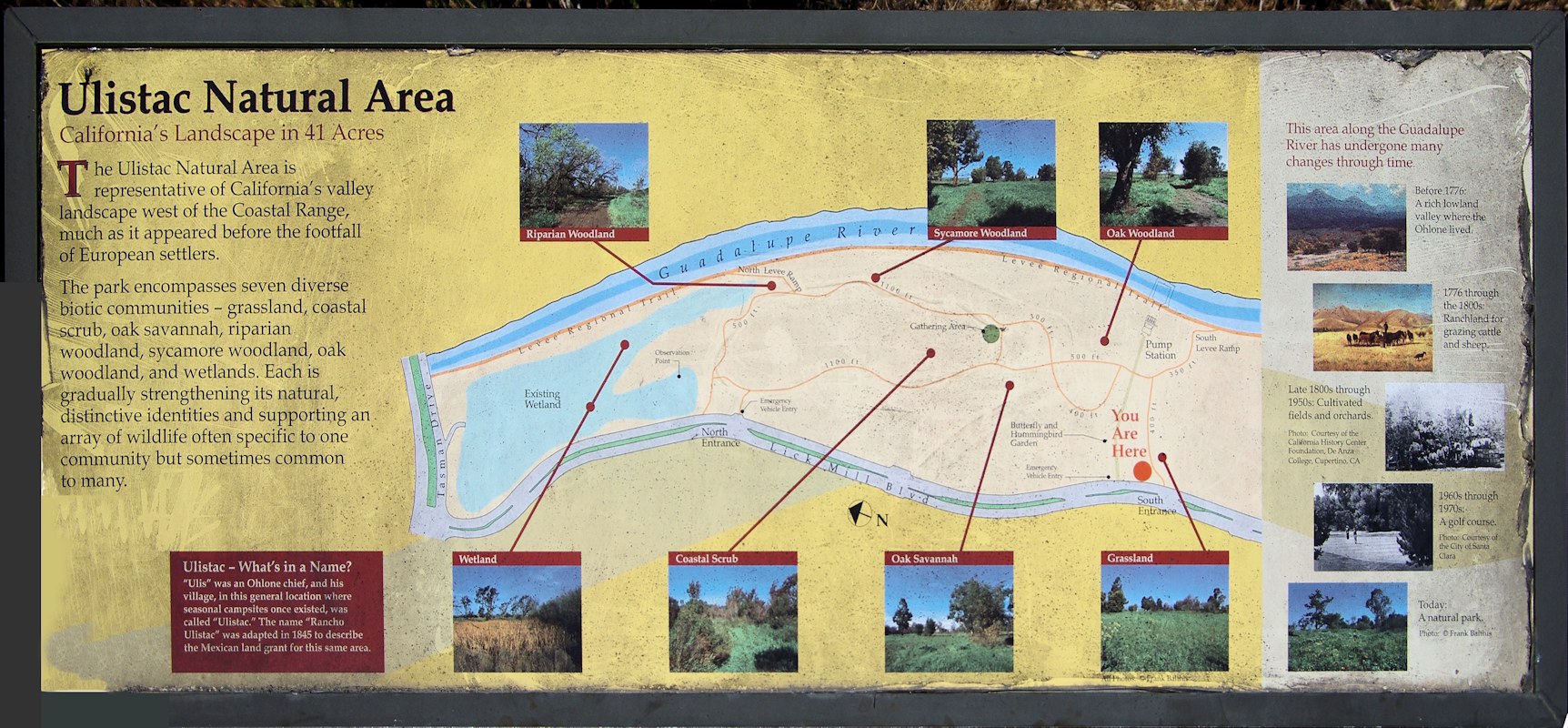 Photographed 20 October 2013.

Ulistac Natural Area
California's Landscape in 41 Acres

The Ulistac Natural Area is representative of California's valley landscape west of the Coastal Range, much as it appeared before the footfall of European settlers.

The park encompasses seven diverse biotic communities -- grassland, coastal scrub, oak savannah, riparian woodland, sycamore woodland, oak woodland, and wetlands. Each is gradually strengthening its natural, distinctive identities and supporting an array of wildlife often specific to one commuity but sometimes common to many.

Ulistac -- What's in a Name?

"Ulis" was an Ohlone chief, and his village, in this general location, where seasonal campsites once existed, was called "Ulistac." The name "Rancho Ulistac" was adapted in 1845 to describe the Mexican land grant for this same area.

This area along the Guadalupe River has undergone many changes through time.
Before 1776: A rich lowland valley where the Ohlone lived.
1776 through the 1800s: Ranchland for grazing cattle and sheep.
Late 1800s through 1950s: Cultivated fields and orchards. (Photo: Courtesy of the California History Center Foundation, De Anza College, Cupertino, CA)
1960s through 1970s: A golf course. (Photo: Courtesy of the City of Santa Clara.)
Today: A natural park. (Photo: © Frank Balthis.)
Location records that use this photograph:
Article records that use this photograph:
Other photos about Geography - Santa Clara County or Ulistac Natural Area.
---
Date and time this page was prepared: 9/18/2023 5:24:11 PM