If you have a question or a comment about this photograph you may write to me at: tas4@schweich.com I sometimes post interesting questions in my FAQ, but I never disclose your full name or address.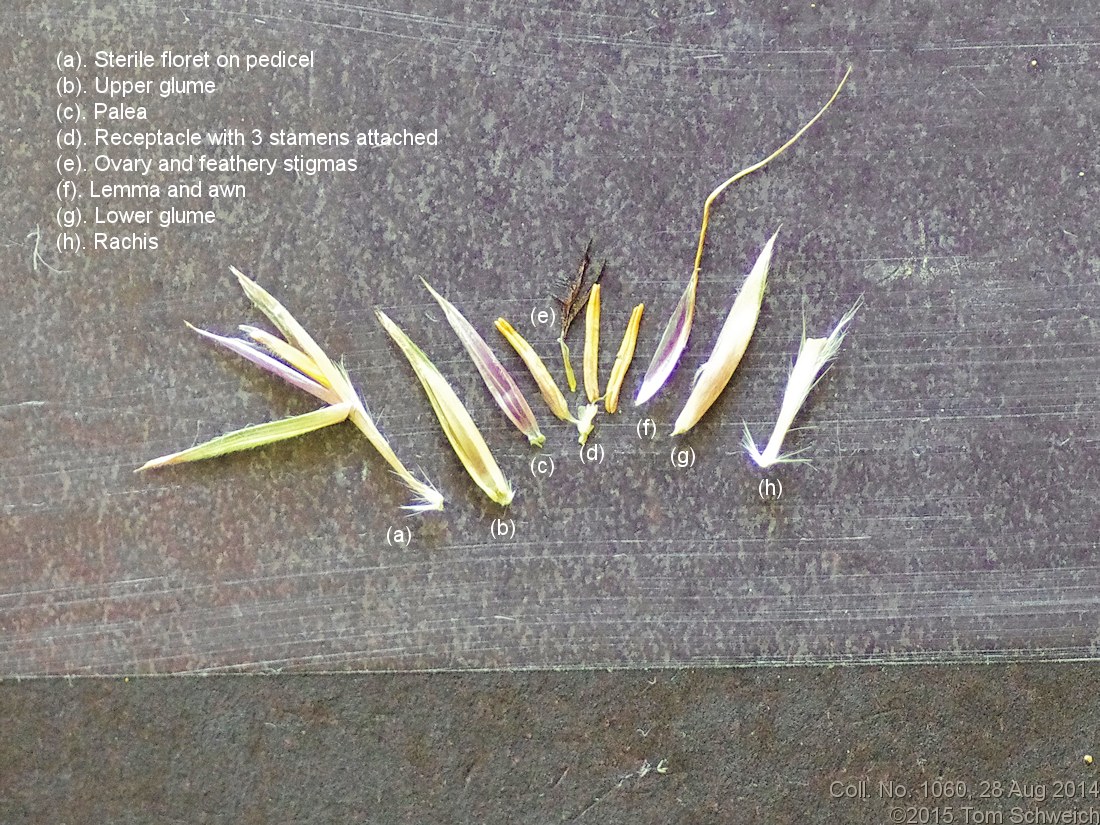 Photographed 4 June 2015.

Coll. No. 1060, 28 Aug 2014, characters observed: Perennial, to 85 cm., clumped, rhizomes unknown; Leaves, blade and sheath differentiated; Sheath, 11 cm., open; Ligule, membraneous (though surrounded by hairs), 3 mm., auricles 0; Blade, soft, flat, 27 cm., hairy near ligule; Inflorescence, 80 mm., > leaves, 1-2 per stem, in 5-6 digitate branches, spikelets many; Rachis, soft bristles on margins and at nodes; Disarticulation at nodes of rachis; Spikelets in pairs, Sterile spikelet, 7 mm., pedicel 4.5 mm.; Fertile spikelet, Florets #1, Glumes, awns 0, ±equal, lower keeled, upper flattened and grooved; Lemma, 6 mm., membraneous, rolled, glabrous, tip 2-forked, awn, #1, 13 mm., bent, twisted, attached on back; Stamens, 3; Anthers, yellow; Ovary, glabrous; Stigma, feathery.

Article records that use this photograph:

Other photos about Species - Poaceae or Andropogon gerardii.
---
Date and time this page was prepared: 5/11/2023 11:46:33 AM