If you have a question or a comment about this photograph you may write to me at: tas4@schweich.com I sometimes post interesting questions in my FAQ, but I never disclose your full name or address.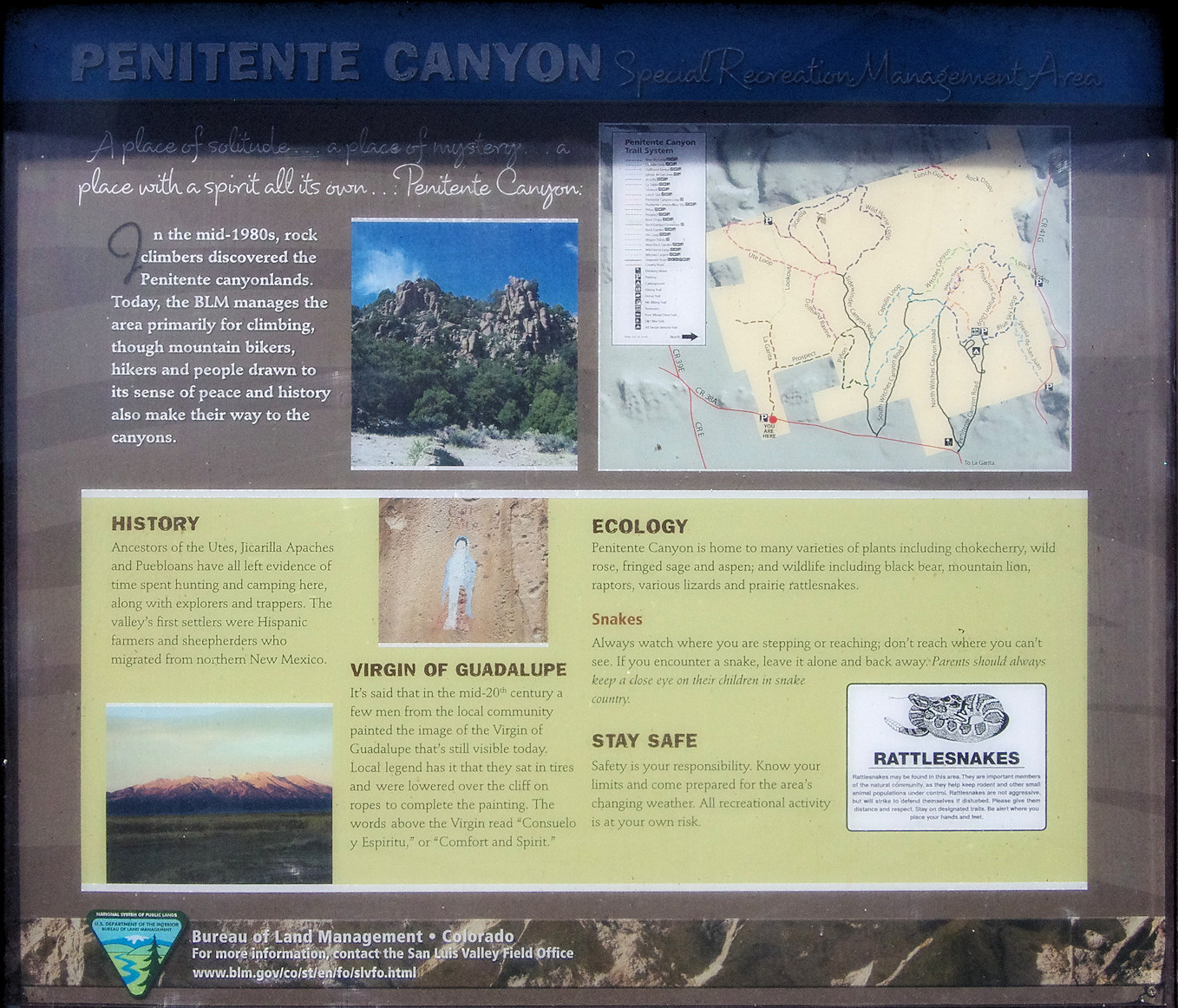 Photographed 20 September 2017.
Penitente Canyon: Special Recreation Management Area
A place of solitude ... a place of mystery .. a place with a spirit of its own ... Penitente Canyon
In the mid-1980s, rock climbers discovered the Penitente canyonlands. Today the BLM manages the area primarily for climbing, though mountain bikers, hikers and people drawn to its sense of peace and history also make their way to the canyons.
History

Ancestors of the Utes, Jicarilla Apaches and Puebloans have all left evidence of time spent hunting and camping here, along with explorers and trappers. The valley's first settlers were Hispanic farmers and sheepherders who migrated from northern New Mexico.

Virgin of Guadalupe

It's said that in the mid-20th century a few men from the local community painted the image of the Virgin of Guadalupe that's still visible today. Local legend has it that they sat in tires and were lowered over the cliff on ropes to complete the painting. The words above the Virgin read "Consuelo y Spiritu" or "Comfort and Spirit."

Ecology

Penitente Canyon is home to many varieties of plants including chokecherry, wild rose, fringed sage and aspen; and wildlife including black bear, mountain lion, raptors, various lizards and prairie rattlesnakes.

Snakes

Always watch where you are stepping or reaching; don't reach where you can't see. If you encounter a snake, leave it alone and back away. Parents should always keep a clise eye on their children in snake country.

Stay Safe

Safety is your responsibility. Know your limits and come prepared for the area's changing weather. All recreational activiny is at your own risk.
Article records that use this photograph:
County Road 33 "La Garita Road," Rio Grande County, and County Road 38A, Saguache County, Colorado: at CR 40G.
Field Notes: 20 Sep 2017.
Other photos about Geography - Colorado or Penitente Canyon.
---
Date and time this page was prepared: 9/22/2021 6:09:26 PM