If you have a question or a comment about this photograph you may write to me at: tas4@schweich.com I sometimes post interesting questions in my FAQ, but I never disclose your full name or address.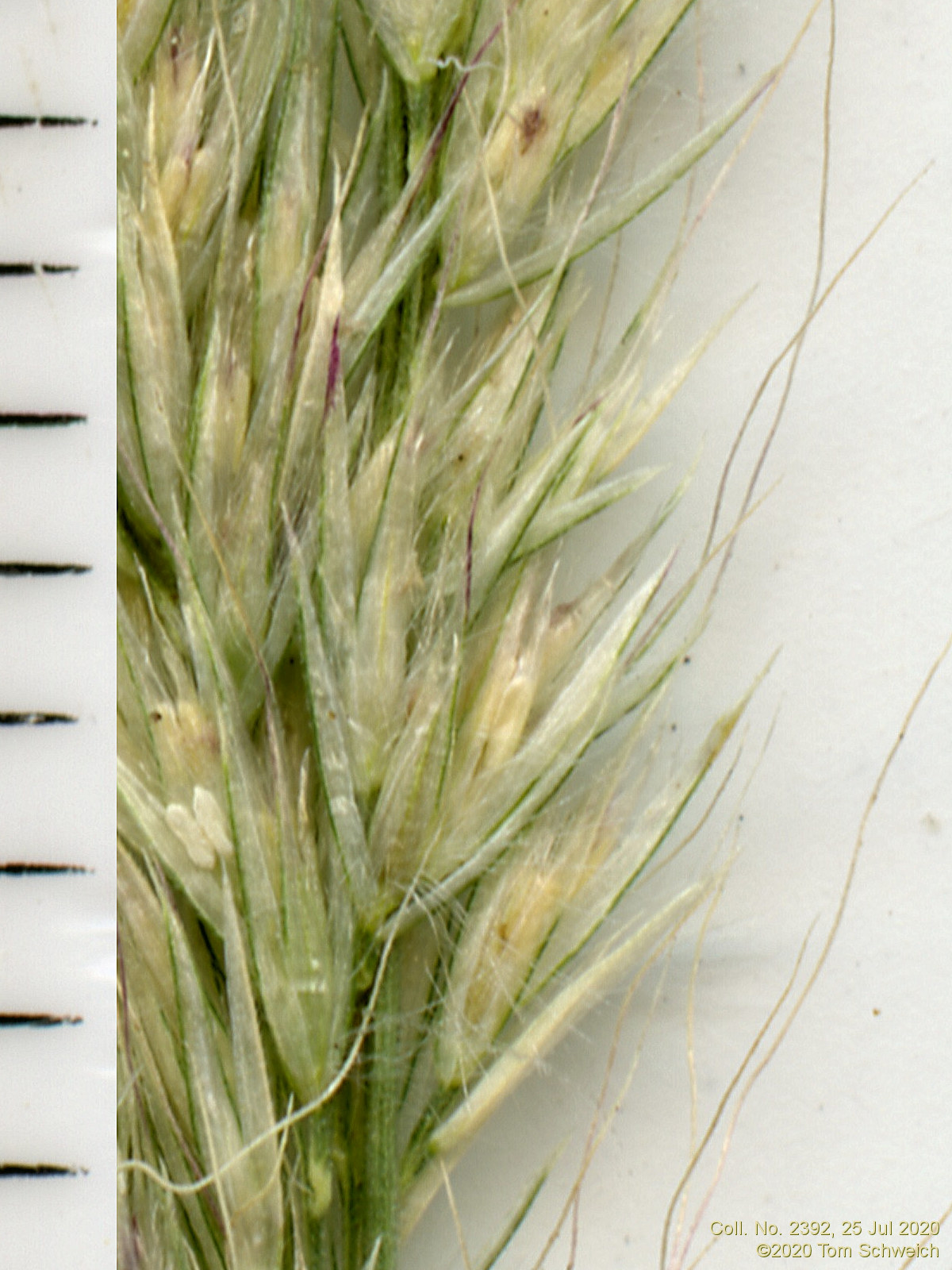 Scanned 25 July 2020.

The thing to see here are the long silky hairs from the callus and lower lemma.

Native and Naturalized Flora of the Golden Area, Jefferson County, Colorado

Poaceae

Muhlenbergia andina (Nutt.) Hitchc. Foxtail Muhly.

Clear Creek, Jefferson County, Colorado. Near the north bank of Clear Creek, on the edge of a now dry distributary channel, approximately 100 m. west of US Highway 6, 1.75 km. west of the GNIS location of Golden 39.7528°N, 105.2365°W. WGS 198 Elev. 1731 m. Also seen here: Dichanthelium sp., probably D. oligosanthes.

Collected by permit: City of Golden, 2020, issued: Apr 9, 2020, to: Tom Schweich.

Tom Schweich, with Jessica Smith, Susan Panjabi, and Zack ____ 2392.
24-JuL-2020

Coll. No. 2392, 24 Jul 2020, characters observed: Perennial grass, to 70 cm.; Rhizomes, robust, scaly; Internodes glabrous, except retrorsely hairy just below nodes to lowest part of sheath above; Leaves, sheath, open, 60 mm., ligules, 1 mm., membraneous, auricles, absent, blade, 100 mm. × 2.3 mm. wide, tapered to an acute tip, margin and mid-rib slightly scabrous; Inflorescence, 1 per culm, dense interrupted panicle, "appearing furry" per Wingate (1994); Spikelets, with 1 well developed floret; Glumes, lower, 3.5 mm., upper, 3.2 mm., veins, #1, but otherwise glumes very thin; Callus, silky hairs to 2 mm.; Lemma, 2.5 mm., very thin, except 3 green veins, awn, #1, from entire apex, 7.5 mm, straight to wavy; Palea, 1.7 mm.

Article records that use this photograph:

Other photos about Species - Poaceae or Muhlenbergia andina.
---
Date and time this page was prepared: 9/18/2023 5:25:45 PM