If you have a question or a comment about this photograph you may write to me at: tas4@schweich.com I sometimes post interesting questions in my FAQ, but I never disclose your full name or address.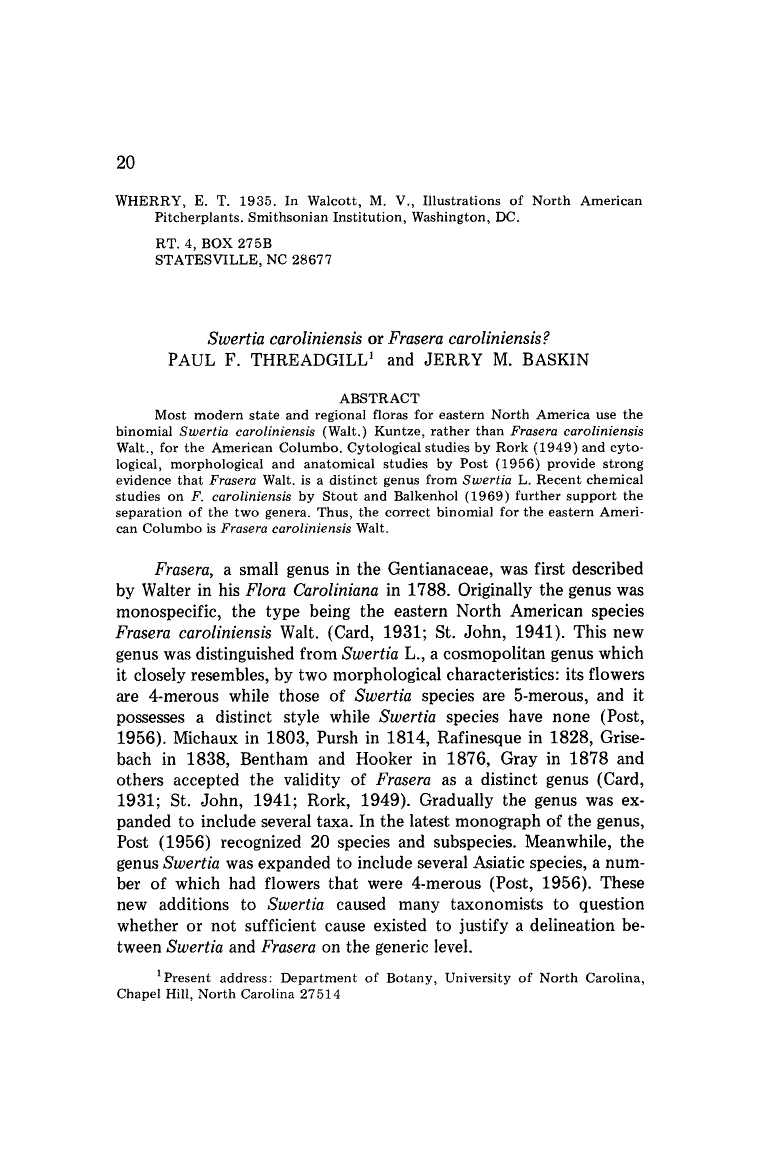 Swertia caroliniensis or Frasera caroliniensis?

PAUL F. THREADGILL 1 and JERRY M. BASKIN

ABSTRACT

Most modern state and regional floras for eastern North America use the binomial Swertia caroliniensis (Walt.) Kuntze, rather than Frasera caroliniensis Walt., for the American Columbo. Cytological studies by Rork (1949) and cytological, morphological and anatomical studies by Post (1956) provide strong evidence that Frasera Walt. is a distinct genus from Swertia L. Recent chemical studies on F. caroliniensis by Stout and Balkenhol (1969) further support the separation of the two genera. Thus, the correct binomial for the eastern American Columbo is Frasera caroliniensis Walt.

Frasera, a small genus in the Gentianaceae, was first described by Walter in his Flora Caroliniana in 1788. Originally the genus was monospecific, the type being the eastern North American species Frasera caroliniensis Walt. (Card, 1931; St. John, 1941). This new genus was distinguished from Swertia L., a cosmopolitan genus which it closely resembles, by two morphological characteristics: its flowers are 4-merous while those of Swertia species are 5-merous, and it possesses a distinct style while Swertia species have none (Post, 1956). Michaux in 1803, Pursh in 1814, Rafinesque in 1828, Grise- bach in 1838, Bentham and Hooker in 1876, Gray in 1878 and others accepted the validity of Frasera as a distinct genus (Card, 1931; St. John, 1941; Rork, 1949). Gradually the genus was ex- panded to include several taxa. In the latest monograph of the genus, Post (1956) recognized 20 species and subspecies. Meanwhile, the genus Swertia was expanded to include several Asiatic species, a num- ber of which had flowers that were 4-merous (Post, 1956). These new additions to Swertia caused many taxonomists to question whether or not sufficient cause existed to justify a delineation be- tween Swertia and Frasera on the generic level.
---
1 Present address: Department of Botany, University of North Carolina, Chapel Hill, North Carolina 27514

Article records that use this photograph:
Autecology of Desert Elkweed Frasera albomarginata S. Watson (Syn: Swertia a.) Gentianaceae in the American Southwest: Threadgill and Baskin 1978.
Other photos about Frasera albomarginata or Taxonomy.
---
Date and time this page was prepared: 5/9/2021 10:53:10 AM