If you have a question or a comment about this photograph you may write to me at: tas4@schweich.com I sometimes post interesting questions in my FAQ, but I never disclose your full name or address.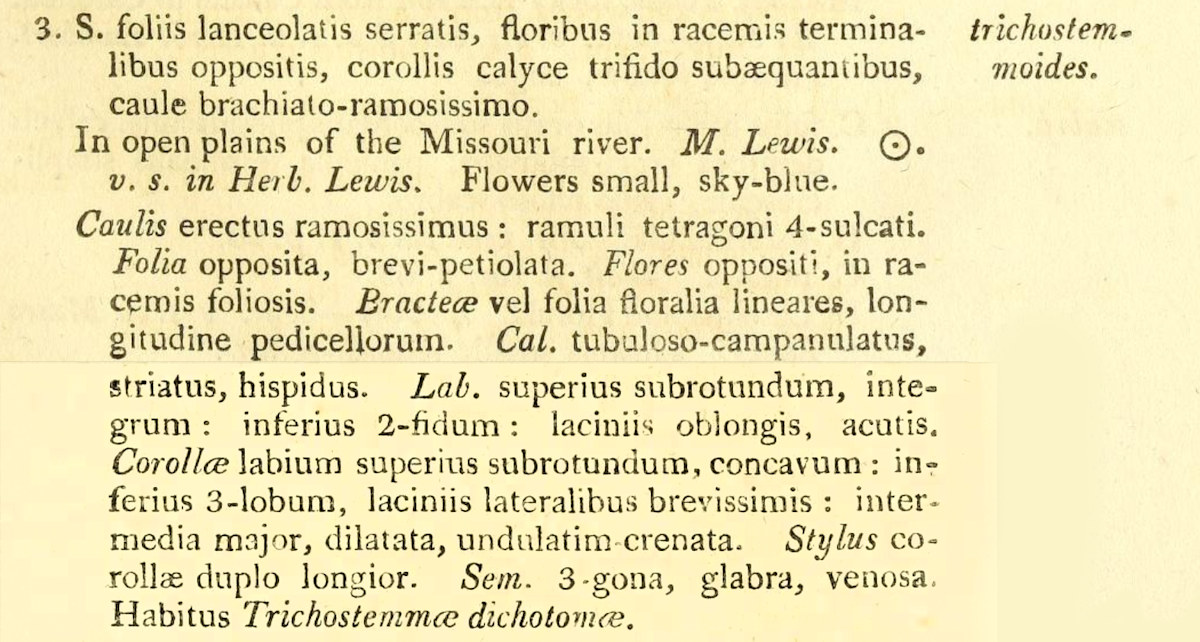 3. S. foliis lanceolatis serratis, floribus in racemis terminalibus oppositis, corollis calyce trifido subęquantibus, caule brachiato-ramosissimo.
trichostem-
moides
In open plains of the Missouri river. M. Lewis. ☉. v. s. in Herb. Lewis. Flowers small, sky-blue.
Caulis erectus ramosissimus: ramuli tetragoni 4-sulcati. Folia opposita, brevi-petiolata. Flores oppositi, in racemis foliosis. Bracteę vel folia floralia lineares, longitudine pedicellorum. Cal. tubuloso-campanulatus, striatus, hispidus. Lab. superius subrotundum, integrum: inferius 2-fidum: laciniis oblongis, acutis. Corollę labium superius subrotundum, concavum: inferius 3-lobum, laciniis lateralibus brevissimis: intermedia major, dilatata, undulatim-crenata. Stylus corollę duplo longior. Sem. 3-gona, glabra, venosa. Habitus Trichostemmę dichotomę.
Article records that use this photograph:
Names in Salvia reflexa and S. lanceolata.: Pursh, 1814.
Other photos about Species or Lamiaceae Salvia reflexa.
---
Date and time this page was prepared: 12/8/2023 3:47:06 PM