If you have a question or a comment about this photograph you may write to me at: tas4@schweich.com I sometimes post interesting questions in my FAQ, but I never disclose your full name or address.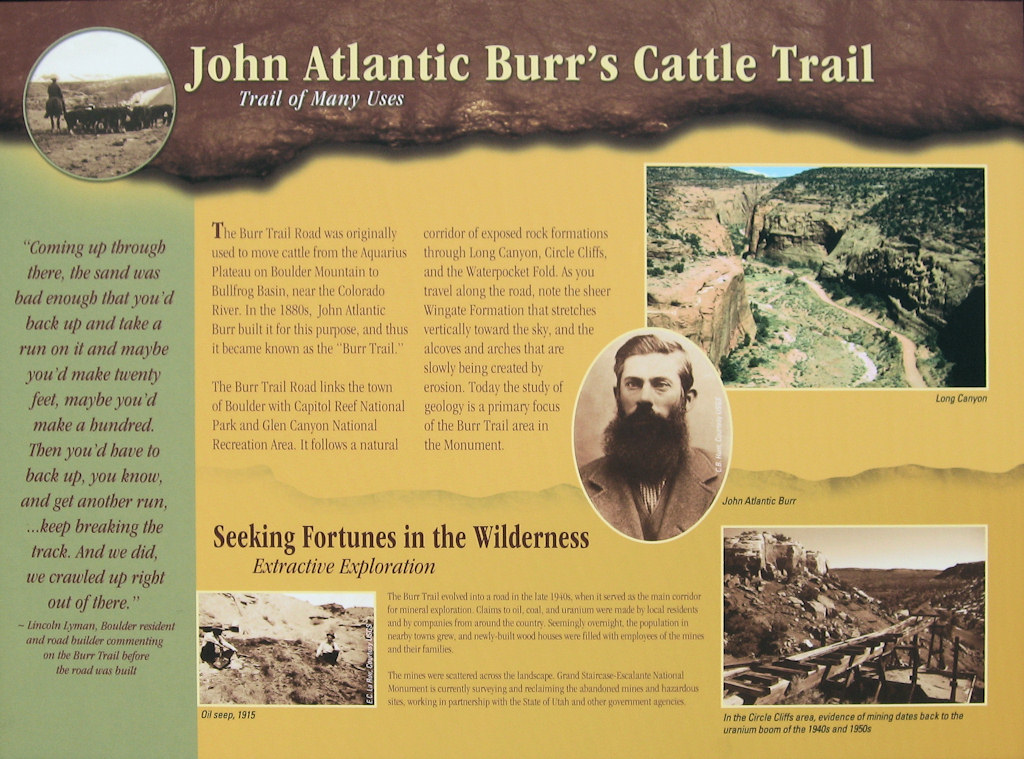 Photograph taken June 7, 2008.
John Atlantic Burr's Cattle Trail
Trail of Many Uses
"Coming up through there, the sand was bad enough that you'd back up and take a run on it and maybe you's make twenty feet, maybe you'd make a hundred. Then you'd have to back up, you know, and get another run, ... keep breaking the track. And we did, we crawled right up out of there."

-- Lincoln Lyman, Boulder resident and road builder commenting on the Burr Trail before the road was built.

The Burr Trail Road was originally used to move cattle from the Acquarius Plateau on Boulder Mountain to Bullfrog Basin, near the Colorado River. In the 1880s, John Atlantic Burr built it for this purpose, and thus it became known as the "Burr Trail."

The Burr Trail Road links the town of Boulder with Capitol Reef National Park and Glen Canyon National Recreation Ara. It follows a natural corridor of exposed rock formations through Long Canyon, Circle Cliffs, and the Waterpocket Fold. As you travel along the road, note the sheer Wingate Formation that stretches vertically toward the sky, and the alcoves and arches that are slowly being created by erosion. Today the study of geology is a primary focus of the Burr Trail area in the Monument.

Seeking Fortunes in the Wilderness
Extractive Exploration
The Burr Trail evolved into a road in the late 1940s, when it served as the main corridor for mineral exploration. Claims to oil, coal and uranium were made by local residents and by companiesfrom around the country. Seemingly overnight, the population in nearby towns grew, and newly-built wood houses were filled with employees of the mines and their families.

The mines were scattered across the landscape. Grand Staircase-Escalante National Monument is currently surveying and reclaiming the abandoned mines and hazardous sites, working in partnership with the State of Utah and other government agencies.
Article records that use this photograph:
Other photos about Geography - Utah or Utah, Garfield County.
---
Date and time this page was prepared: 9/18/2023 5:24:15 PM