If you have a question or a comment about this photograph you may write to me at: tas4@schweich.com I sometimes post interesting questions in my FAQ, but I never disclose your full name or address.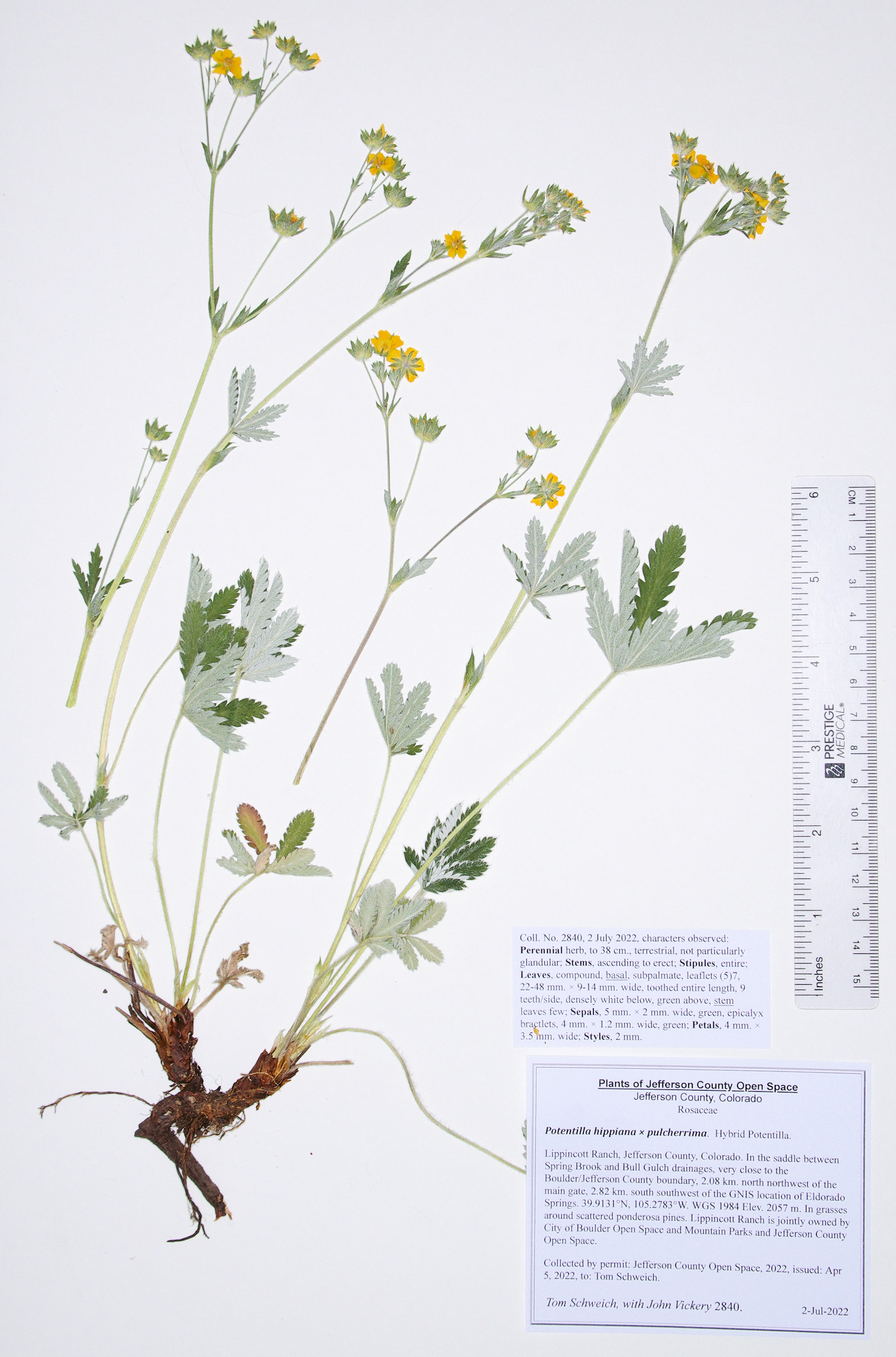 Photographed 7 November 2022.

Plants of Jefferson County Open Space
Jefferson County, Colorado

Rosaceae

Potentilla hippiana × pulcherrima. Hybrid Potentilla.

Lippincott Ranch, Jefferson County, Colorado. In the saddle between Spring Brook and Bull Gulch drainages, very close to the Boulder/Jefferson County boundary, 2.08 km. north northwest of the main gate, 2.82 km. south southwest of the GNIS location of Eldorado Springs. 39.9131°N, 105.2783°W. WGS 1984 Elev. 2057 m. In grasses around scattered ponderosa pines. Lippincott Ranch is jointly owned by City of Boulder Open Space and Mountain Parks and Jefferson County Open Space.

Collected by permit: Jefferson County Open Space, 2022, issued: Apr 5, 2022, to: Tom Schweich.
| | |
| --- | --- |
| Tom Schweich, with John Vickery 2840. | 2-Jul-2022 |
Coll. No. 2840, 2 July 2022, characters observed: Perennial herb, to 38 cm., terrestrial, not particularly glandular; Stems, ascending to erect; Stipules, entire; Leaves, compound, basal, subpalmate, leaflets (5)7, 22-48 mm. × 9-14 mm. wide, toothed entire length, 9 teeth/side, densely white below, green above, stem leaves few; Sepals, 5 mm. &times 2 mm. wide, green, epicalyx bractlets, 4 mm. × 1.2 mm. wide, green; Petals, 4 mm. × 3.5 mm. wide; Styles, 2 mm.
Article records that use this photograph:
Other photos about Species - Rosaceae or Potentilla hippiana × pulcherrima.
---
Date and time this page was prepared: 11/20/2023 9:52:18 AM