If you have a question or a comment about this photograph you may write to me at: tas4@schweich.com I sometimes post interesting questions in my FAQ, but I never disclose your full name or address.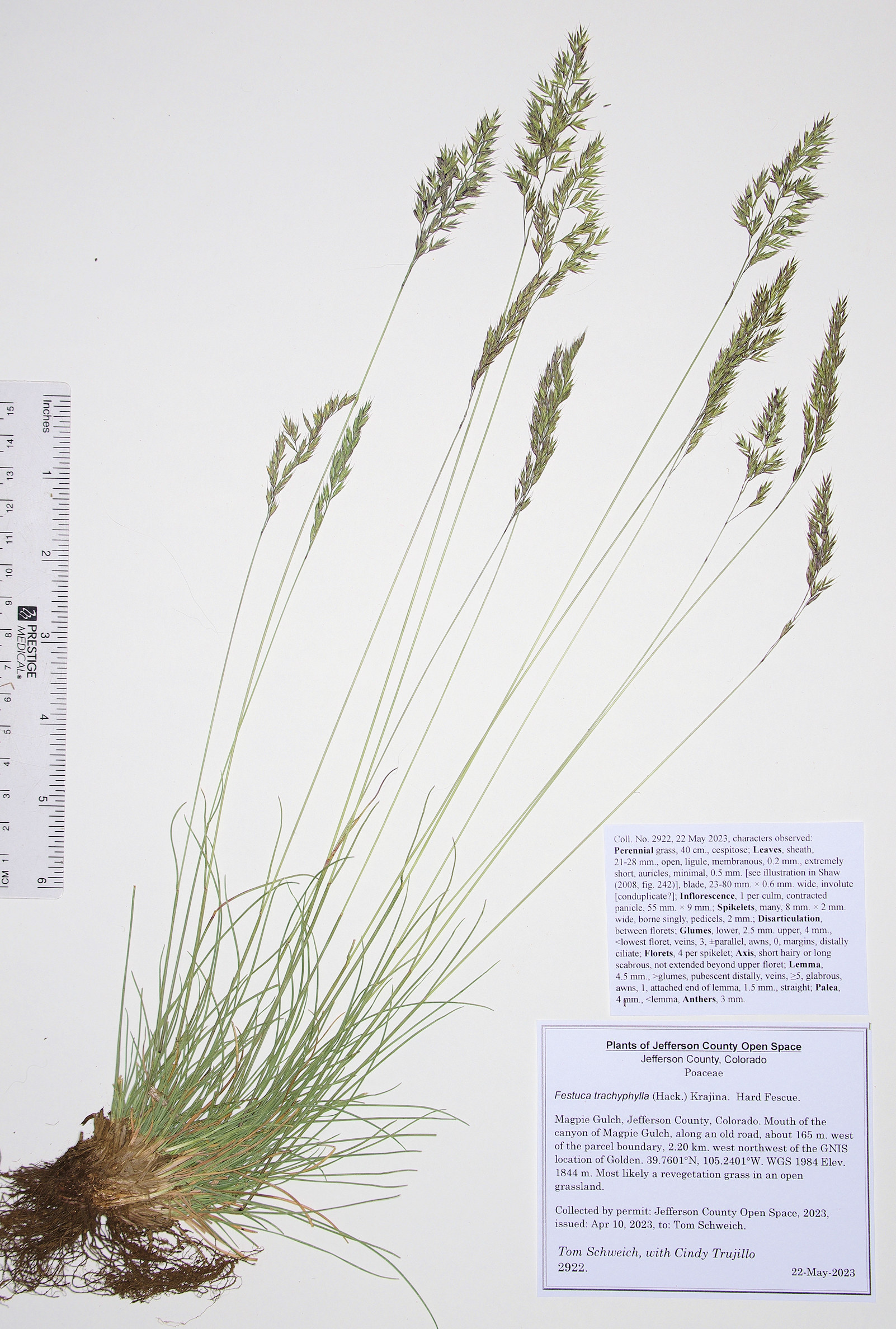 Photographed 26 October 2023.

Plants of Jefferson County Open Space
Jefferson County, Colorado

Poaceae

Festuca trachyphylla (Hack.) Krajina. Hard Fescue.

Magpie Gulch, Jefferson County, Colorado. Mouth of the canyon of Magpie Gulch, along an old road, about 165 m. west of the parcel boundary, 2.20 km. west northwest of the GNIS location of Golden. 39.7601°N, 105.2401°W. WGS 1984 Elev. 1844 m. Most likely a revegetation grass in an open grassland.

Collected by permit: Jefferson County Open Space, 2023, issued: Apr 10, 2023, to: Tom Schweich.
| | |
| --- | --- |
| Tom Schweich, with Cindy Trujillo 2922. | 22-May-2023 |
Coll. No. 2922, 22 May 2023, characters observed: Perennial grass, 40 cm., cespitose; Leaves, sheath, 21-28 mm., open, ligule, membranous, 0.2 mm., extremely short, auricles, minimal, 0.5 mm. [see illustration in Shaw (2008, fig. 242)], blade, 23-80 mm. × 0.6 mm. wide, involute [conduplicate?]; Inflorescence, 1 per culm, contracted panicle, 55 mm. × 9 mm.; Spikelets, many, 8 mm. × 2 mm. wide, borne singly, pedicels, 2 mm.; Disarticulation, between florets; Glumes, lower, 2.5 mm. upper, 4 mm., <lowest floret, veins, 3, ±parallel, awns, 0, margins, distally ciliate; Florets, 4 per spikelet; Axis, short hairy or long scabrous, not extended beyond upper floret; Lemma, 4.5 mm., >glumes, pubescent distally, veins, ≥5, glabrous, awns, 1, attached end of lemma, 1.5 mm., straight; Palea, 4 mm., <lemma, Anthers, 3 mm.
Article records that use this photograph:
Other photos about Species - Poaceae or Festuca trachyphylla.
---
Date and time this page was prepared: 12/8/2023 3:47:55 PM