If you have a question or a comment about this photograph you may write to me at: tas4@schweich.com I sometimes post interesting questions in my FAQ, but I never disclose your full name or address.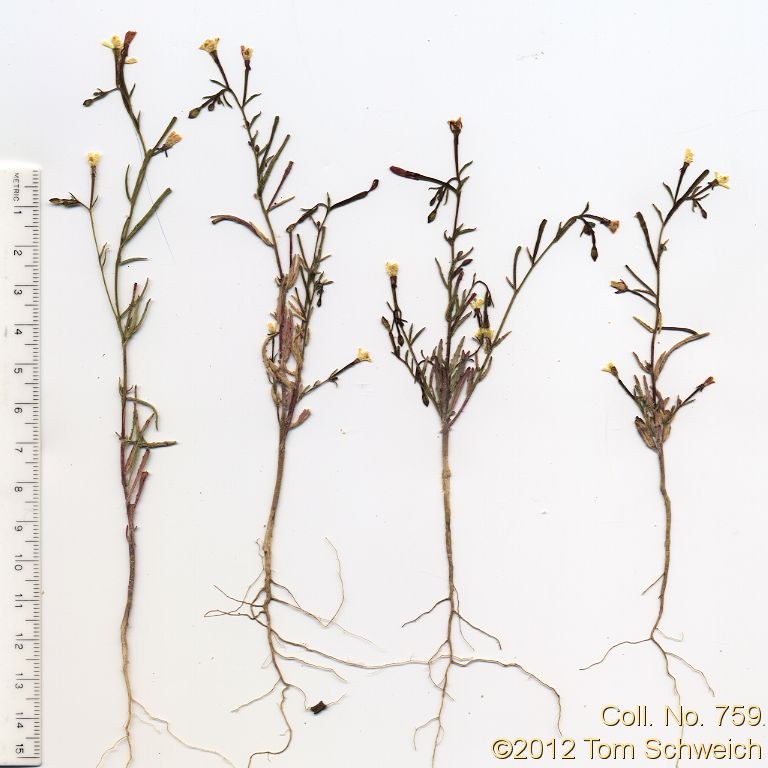 Scanned 17 Jan 2012.

Coll. No. 759, 18 Jan 2012, characters observed while keying: Annual rosette not present; Leaf linear, to 2 cm., margin wavy to lightly dentate; Infloresence nodding; Sepals 3 (3.5) mm., separating at anthesis, not joined at tip; Petals 4, yellow, 4 mm x 2 mm wide; Anthers extend to base of stigma (TJDM & TJM2 keys state anthers surround stigma, but I don't see them that high); Style 2 mm.; Stigma spheric,to 1.5 mm dia.; and Capsule sessile.

Article records that use this photograph:

Other photos about Species or Onagraceae Camissonia parvula.
---
Date and time this page was prepared: 10/19/2021 2:59:05 PM