If you have a question or a comment about this photograph you may write to me at: tas4@schweich.com I sometimes post interesting questions in my FAQ, but I never disclose your full name or address.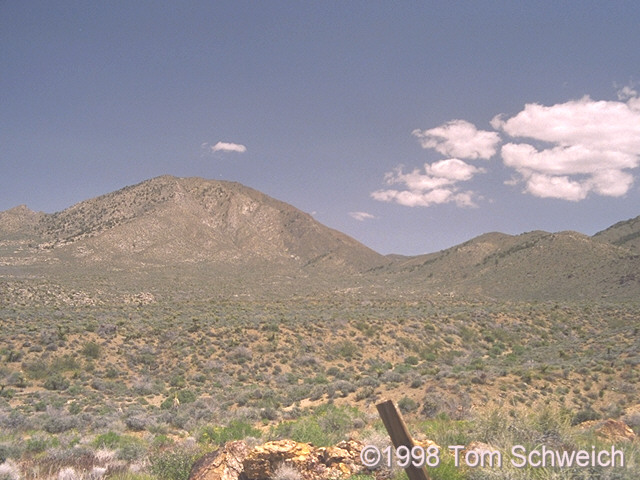 At the very top of Columbia Mountain is an excellent example of supergene enrichment of copper ores. The idea behind supergene enrichment goes something like this. In the beginning there was a small amount of copper mineralization in the ore vein. As the mountain eroded away, the copper minerals were dissolved and then redeposited a few feet deeper in the vein. As a result the copper vein at the surface looks to be very rich. But just a few feet below the surface there is very little copper. Someone built a road to the top of Columbia Mountain, and dug some exploratory trenches in rich copper veins right on the very top of the mountain. However as soon as they got a few feet down, the vein was not rich enough to continue digging.

Location records that use this photograph:

Article records that use this photograph:

Other photos about Geography - Eastern Mojave or Columbia Mountain.
---
Date and time this page was prepared: 12/8/2023 3:45:28 PM