If you have a question or a comment about this photograph you may write to me at: tas4@schweich.com I sometimes post interesting questions in my FAQ, but I never disclose your full name or address.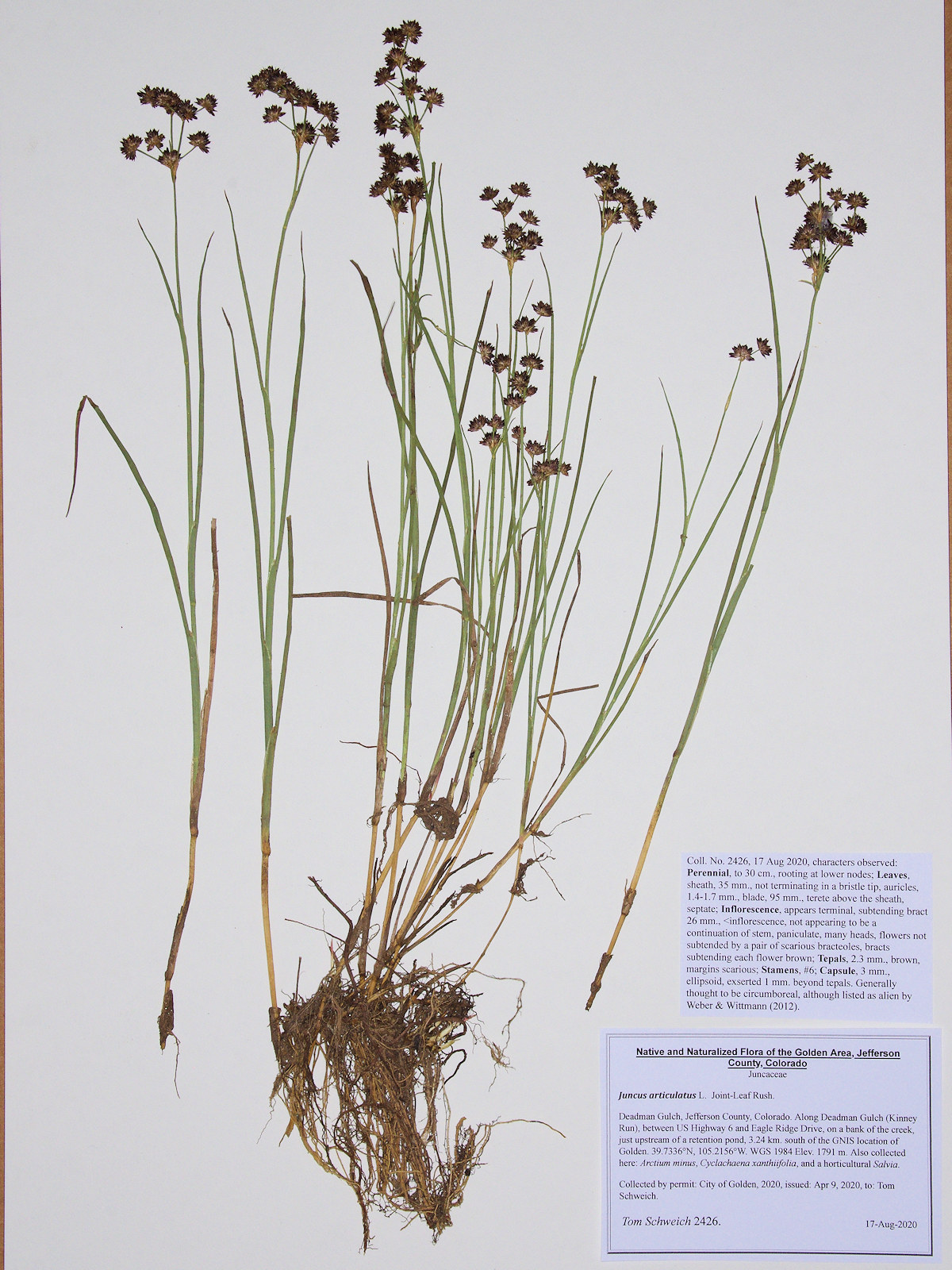 Photographed 29 December 2020.

Native and Naturalized Flora of the Golden Area, Jefferson County, Colorado

Juncaceae

Juncus articulatus L. Joint-Leaf Rush.

Deadman Gulch, Jefferson County, Colorado. Along Deadman Gulch (Kinney Run), between US Highway 6 and Eagle Ridge Drive, on a bank of the creek, just upstream of a retention pond, 3.24 km. south of the GNIS location of Golden. 39.7336°N, 105.2156°W. WGS 1984 Elev. 1791 m. Also collected here: Arctium minus, Cyclachaena xanthiifolia, and a horticultural Salvia.

Collected by permit: City of Golden, 2020, issued: Apr 9, 2020, to: Tom Schweich.

Tom Schweich 2426.
17-Aug-2020

Coll. No. 2426, 17 Aug 2020, characters observed: Perennial, to 30 cm., rooting at lower nodes; Leaves, sheath, 35 mm., not terminating in a bristle tip, auricles, 1.4-1.7 mm., blade, 95 mm., terete above the sheath, septate; Inflorescence, appears terminal, subtending bract 26 mm., <inflorescence, not appearing to be a continuation of stem, paniculate, many heads, flowers not subtended by a pair of scarious bracteoles, bracts subtending each flower brown; Tepals, 2.3 mm., brown, margins scarious; Stamens, #6; Capsule, 3 mm., ellipsoid, exserted 1 mm. beyond tepals. Generally thought to be circumboreal, although listed as alien by Weber & Wittmann (2012).

Article records that use this photograph:

Other photos about Species or Juncaceae Juncus articulatus.
---
Date and time this page was prepared: 11/20/2023 9:51:23 AM