If you have a question or a comment about this photograph you may write to me at: tas4@schweich.com I sometimes post interesting questions in my FAQ, but I never disclose your full name or address.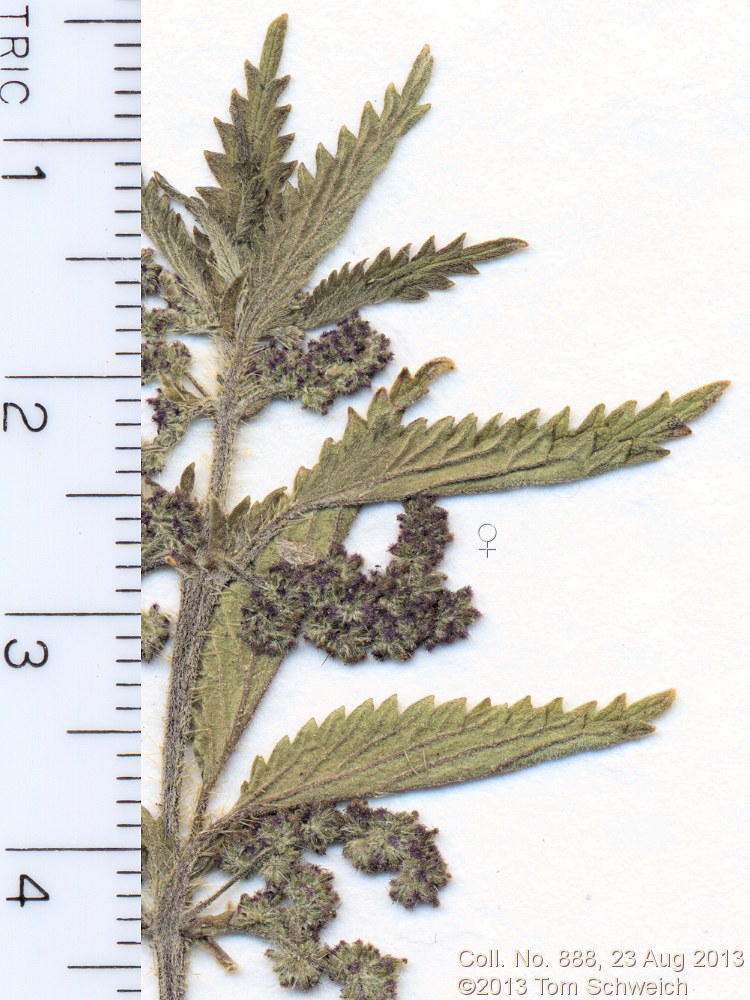 Scanned 16 August 2013.

Coll. No. 888, 23 Aug 2013, characters observed whilst keying: Perennial herb, to 50 cm., with stinging hairs; Stem gray-green, stinging and non-stinging hairs, non-stinging hairs 0.2-0.4 mm.; Leaves opposite to 70 mm., non-stinging hairs on abaxial veins erect; Petioles to 23 mm.; Inflorescence axillary, to 35 mm., structure indistinct; Staminate flowers: Sepals 4, fused at base, free otherwise; Stamens 4, incurved in bud, surrounding a cup-like abortive ovary (?); Pistillate flowers: Sepals 4, fused at base, ±free otherwise, paired size differential indistinct; Stigmas 1, hairy, hairs tangled purple; Fruit, 1.5 mm., ovate.

Article records that use this photograph:

Other photos about Species or Urticaceae Urtica dioica holosericea.
---
Date and time this page was prepared: 11/20/2023 9:51:37 AM